The River Soar is a tributary of the River Trent in the English East Midlands.
It rises near Hinckley in Leicestershire and is joined by the River Sence (Wigston) near Enderby before flowing through Leicester (where it is joined by the Grand Union Canal at Aylestone), Barrow-on-Soar, beside Loughborough and Kegworth, before joining the Trent near Ratcliffe-on-Soar in Nottinghamshire, and then into the Humber and the North Sea. Its major tributary, the once navigable River Wreake, joins it near Syston.
The Soar has been made navigable to boats and several shortcuts have been built. The section between Loughborough and Leicester was made navigable in 1784, and the Grand Union Canal connected it south to the southern canals network and to London, in 1814.
According to legend, the body of King Richard III of England was thrown into the Soar after his death.
The bridge carrying the A47 across the Soar at Leicester is known as 'King Richard's Bridge'.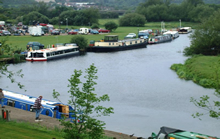 It is believed the name "Leicester" is derived from the words castra (camp) of the Ligore, meaning dwellers on the 'River Legro' (an early name for the River Soar). In the early 10th century it was recorded as Ligeraceaster ("the town of the Ligor people"). The Domesday Book later recorded it as Ledecestre.
The River Soar is rich in wildlife with thriving bird, fish and plant populations being popular with wildlife enthusiasts. The river was once notorious for its unusual pink colour - a result of discharges from Leicester's prosperous textile industries. However clean-up work by the Environment Agency restored it to its natural state.
The River Soar before the late 1700 was too small and shallow to allow navigation of barges however this was partially solved by the construction of the Leicester canal which allowed the Soar to be navigable.
The expansion of the canal meant that industry could start to develop along the canal side, with the transport provided by the Grand Union Canal Company.
By 1895, there were 231 listed hosiery manufacturers in the county which employed 10% of the population in 1851, and around 7% in 1881 and 1911.
These industries needed a consistent supply of water as well as transport links so were located alongside the canal.